Debit/ATM Cards
VISA® Debit Cards
Do you get tired of writing checks everywhere you go or have you encountered a "No Checks Accepted Here" sign?  First Pioneer National Bank has the solution, a VISA® Debit Card.
Debit Cards are used like a credit card
Funds are deducted from your primary checking account
Accepted at ATM machines for cash, inquiries and transfers worldwide
EMV (chip) technology keeps your card secure; to learn more about EMV chip cards click here.
Daily limit of $1,500 on point of sale purchases
Daily limit of $500 on cash withdrawals
Instant Issue now available! Please see a customer service representative for further details.
You can prevent unauthorized purchases online from your debit card before they ever happen with VISA Checkout.  VISA Checkout uses multiple layers of security, including fraud monitoring systems to help keep your payment information safe.
Go to VISA Checkout to learn more and enroll today!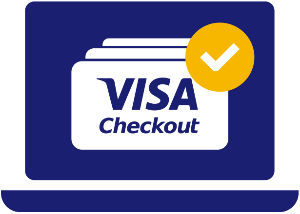 ATM Cards
Get cash everywhere you go with a First Pioneer National Bank ATM Card. 
Accepted at ATM machines for cash, inquiries and transfers worldwide

Funds are deducted from your primary checking account

Daily limit of $500 on cash withdrawals

Instant Issue now available! Please see a customer service representative for further details.
Pioneer Online Card Management
If you are a Pioneer Online Banking customer, you may now activate, reorder, report lost/stolen, and suspend (or freeze) and reactive ATM and Debit Cards in Pioneer Online Banking and Pioneer Mobile Banking.  
In the "Card Management" tab, click on the card you wish to work with, and click on the option you need;
To suspend (or freeze) and/or reactive your card, click on the round button in the upper right hand corner.
There is a $10 fee for each reorder you initiate.  Please contact the
FPNB Help Desk
during regular banking hours for assistance or to learn more.
ATM & Debit Card Safety Tips
ATM and Debit Card crime does happen.  Preventing such a crime is a cooperative effort between you and the Bank.  This includes protecting your ATM or Debit Card number, Personal Identification Number (PIN), and cash, and being aware of the condition of ATM and Point of Sale (POS) machines and your surroundings.
It's no longer enough to take measures to protect your physical safety and your cash after a transaction -- now you must be aware of cameras and skimming devices that secretly steal your bank account numbers and PIN numbers.  Here are some tips for safer transactions:
Protect Your Card and PIN.  Protect your ATM and Debit Card as if it were cash.  Report lost or stolen cards immediately.  Don't write your PIN on your card or give the number out to anyone, including friends and family. Avoid using numbers that are easily identified (birth date, phone number, etc.) with your personal identity.

Be Watchful for "Skimmers".  Do not swipe your card in machines that claim to clean, re-magnetize or renew your card.  If the machine looks like it has been tampered with, re-manufactured or has any loose parts don't use it.  This machine could be a "skimmer" which is used to copy identifying information from the magnetic strip on your card.

Take the Receipt With You.  Never leave the receipt behind, even after an incomplete transaction.  Discarded ATM receipts can lead to identity theft and account hijacking.
Be aware of suspicious texts or email messages. The Bank usually will not contact you via text message or email about your ATM or Debit Card, unless you have previously agreed to this method of communication; if you receive a suspicious text or email message claiming to come from the Bank, contact us to check the legitimacy.
Be aware of phone calls you receive. Phone calls you receive may not actually be from the Bank. You should not provide your full card number, PIN or CVV code over the phone. When in doubt, call the Bank to verify contact.
Be on guard against phishing attacks. Do not open attachments or click links in emails you were not expecting.
Check Your Debit Card Account Frequently.  If you find any irregularities in your statement (e.g. charges made for items that you didn't order, cash withdrawals that you didn't make), then contact the Bank immediately to report the incident.  A small transaction (e.g. $0.01 or other small amounts) may be indicative of a criminal "checking" the card information to see if it is legitimate. A larger fraudulent charge typically follows. Your liability under Federal law for unauthorized use of your ATM or Debit Card depends on how quickly you report the loss.
Lost/Stolen Debit Card – Fraudulent Charges
If your card is lost, stolen or you suspect fraudulent charges, it is important that you report the incident immediately to help ensure potential losses are kept to a minimum.  Call the FPNB Help Desk during regular banking hours or you can call the following numbers, 24 hours a day, 7 days a week:
Lost/Stolen:
1-888-297-3416 (United States)
1-206-352-4990 (International)